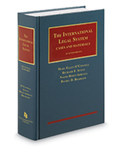 Title
The International Legal System: Cases and Materials, 7th ed
Description
The world of international law continues to grow and change at an accelerated pace. The International Legal System, 7th edition captures the critical developments for law students as they prepare for the global legal marketplace.

Important additions include expanded treatment of international environmental law in a new chapter; updates on international legal theory; expanded coverage of cyber law; new cases on jurisdiction ranging from the International Court of Justice's Jurisdictional Immunity of the State to the U.S. Supreme Court's Kiobel v. Shell; the latest results of international trade talks, and new cases at the intersection of armed conflict and human rights.

Professor Daniel Bradlow has joined the book following his tenure with the South African Reserve Bank. He and his co-authors are uniquely equipped to carry forward the book's enduring strength: Investigating the inter-linkages of international, national, and regional law.
Publisher
Foundation Press
Keywords
International Law, International Legal System
Disciplines
International Law | Law
Recommended Citation
O'Connell, Mary Ellen; Scott, Richard F.; Roht-Arriaza, Naomi; and Bradlow, Daniel D., "The International Legal System: Cases and Materials, 7th ed" (2015). Books. 245.
https://scholarship.law.nd.edu/law_books/245