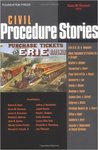 Title
The Story of Hansberry: The Foundation for Modern Class Actions
Description
Book Chapter
The Story of Hansberry: The Foundation for Modern Class Actions, in Civil Procedure Stories 217 (Kevin M Clermont ed., 2004).
Hansberry is a story of racism; of neutral procedural principles developed to avoid both an untenable substantive outcome and a direct examination of the race issue; and ultimately of the rise of the most important, and most controversial, of all modern procedural devices—the class action.
The book is a collaborative effort by fourteen law-school professors to provide a deeper understanding of the great civil procedure cases. The professors each wrote a short chapter on one of the cases, retelling the cases in their own voice and by their own method. Each chapter has a fairly consistent structure, with separate sections on: social and legal background of the case; factual background of the case; lower court proceedings in the case; final appellate disposition, including issues, decisions, reasons, and separate opinions; factual postscript to the case; immediate impact of the case on the development of the law (why the case is famous and when it became so); and continuing importance of the case today (why it is still a leading case).
Publisher
Foundation Press
Keywords
civil procedure, litigation, Hansberry v. Lee, racism
Disciplines
Civil Procedure | Law | Litigation
Recommended Citation
Tidmarsh, Jay, "The Story of Hansberry: The Foundation for Modern Class Actions" (2004). Books. 259.
https://scholarship.law.nd.edu/law_books/259