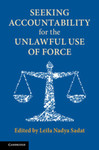 Title
The Presumption of Peace: Illegal War, Human Rights, and Humanitarian Law
Description
Book Chapter
Mary Ellen O'Connell, The Presumption of Peace: Illegal War, Human Rights, and Humanitarian Law, in Seeking Accountability for the Unlawful Use of Force 526 (Leila Nadya Sadat ed., 2018).
On September 11, 2015, world headlines were focused on people fleeing war rather than the anniversary of terrorist attacks in the United States fourteen years earlier. In Europe, men, women, and children were drowning, suffocating, and freezing in desperate attempts to escape civil wars in Africa, the Middle East, and South Asia. No greater proof could be provided of the urgent need for peace. Yet, instead of seeking to enhance the capacity of law and diplomacy to prevent and end armed conflict some experts in militarily powerful States were arguing for interpretations of law and moral principle permitting more war, not less. These experts sought relaxation of the rules restricting resort to military force or the right to follow wartime rules governing killing and detention to peacetime situations. Their positions may well be based on a sincerely held belief that military force is the most effective way to respond to terrorism, dictatorial regimes, and other causes of insecurity. Prominent ethicists are making a similar case for expanding resort to war for similar reasons. Yet, in the words of a former British diplomat, "governments' failed attempts to impose order by force are themselves the source of disorder.
In the search for bold action in the face of serious challenges, it can be overlooked that war is in fact the cause of tragedy, not the solution. Protecting human lives and the natural environment from the ravages of war can best be accomplished by promoting restrictions on force and peaceful resolution of conflict. The contemporary civil wars in Syria, Iraq, Libya, Afghanistan, Congo, Burundi, and else are feeding the flood of migrants. These wars need resolution not escalation through foreign military intervention. It will be argued here that however understandable the calls for greater military force may be, war is rarely the answer. Fostering understanding and respect for law and even expanding restrictions to prohibit civil war hold greater promise. The recent trend toward interpreting the scope of peacetime human rights protections to apply more broadly is an important counterpoint to war-expansion arguments. Expanding human rights follows the plan of the World War II generation to save succeeding generations from the scourge of war through law and moral suasion. In fact, the whole body of international law is structured to move toward eliminating war. International humanitarian law rules that apply war in war are designed to apply exceptionally in short-term emergencies. It is the body of human rights law that applies normally, as a matter of presumption. In any case of doubt, international law requires erring on the side of peace and peacetime law.
Publisher
Cambridge University Press
Keywords
peace, presumption of peace, illegal war, 9/11, terrorism, international law, human rights, Syria, Iraq, Libya, Afghanistan, Congo, Burundi, migrant, migrant law, use of force, Middle east, dictatorial regimes, insecurity
Disciplines
Human Rights Law | International Law | Law
Recommended Citation
O'Connell, Mary Ellen, "The Presumption of Peace: Illegal War, Human Rights, and Humanitarian Law" (2018). Books. 301.
https://scholarship.law.nd.edu/law_books/301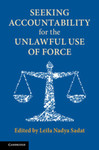 COinS