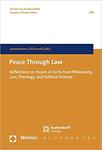 Title
Peace Through Law: Reflections on Pacem in Terris from Philosophy, Law, Theology, and Political Science
Description
Book Chapters
Mary Ellen O'Connell & Heinz-Gerhard Justenhoven, Introduction, in Peace Through Law: Reflections on Pacem in Terris from Philosophy, Law, Theology, and Political Science 7 (Heinz-Gerhard Justenhoven & Mary Ellen O'Connell, eds., 2016).
Mary Ellen O'Connell, Belief in the Authority of International Law for Peace: A Reflection on Pacem in Terris
In 1963, Pope John XXIII's renowned peace encyclical Pacem in Terris offered a practical vision beyond the accepted international policies of his time: normative ideas for reforming the UN aimed at a peaceful conflict resolution in a time of globalization. It calls for renewed commitment to the United Nations and international law. Pope John XXIII explained the role of public authorities within nation states in keeping the peace and working together for the common good. He saw the need for similar authority for the international community. Fifty years later, the authors critically debate the ideas for 'global political authority' and global law from their respective perspectives: theology, philosophy, international law, economics, and political science.
Publisher
Aschendorff Verlag
Keywords
Catholic Church, Pope John XXIII, peace, Pacem in terris, international organization, United Nations
Disciplines
International Law | Law | Law and Philosophy | Law and Politics | Military, War, and Peace | Religion Law
Recommended Citation
O'Connell, Mary Ellen and Tessema, Samuel T., "Peace Through Law: Reflections on Pacem in Terris from Philosophy, Law, Theology, and Political Science" (2016). Books. 318.
https://scholarship.law.nd.edu/law_books/318