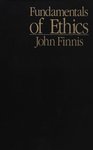 Title
Fundamentals of Ethics
Description
Are we entitled to be confident that our moral judgements can be objective? Can they express insights into aspects of reality, rather than mere feelings, tastes, desires, decisions, upbringing, or conventions? Why must we consider some of our choices to be free, and how do our free choices matter? How far should our moral judgements be based on assessments of expected consequences? Can utilitarianism, and other consequentialist or proportionalist theories, be anything more than the rationalization of positions taken on other grounds?
The main theme of this book is the challenge to ethics from philosophical scepticism and from contemporary forms of consequentialism. But in seeking to meet this challenge, the book develops a sustained philosophical argument about many of the central questions of ethics. It reviews classical positions, and challenges some long-influential interpretations of those positions. It also reviews and participates in some recent developments and controversies in Anglo-American ethical theory.
The activity of ethical theorizing itself is shown to be a matter of free and intelligent decision, in pursuit of intelligible good; it thus provides a test-case for any ethical theory.
Publisher
Georgetown University Press
Disciplines
Law | Legal Ethics and Professional Responsibility
Recommended Citation
Finnis, John M., "Fundamentals of Ethics" (1983). Books. 34.
https://scholarship.law.nd.edu/law_books/34