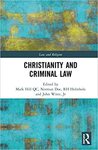 Title
Christianity and the Criminal Law
Description
Book Chapter
Richard W. Garnett, Attempts, Complicity, Virtue & the Limits of Law, in Christianity and the Criminal Law (Mark Hill QC, Norman Doe, RH Helmholz, John Witte, Jr, eds., 2020).
This collection, by leading legal scholars, judges and practitioners, together with theologians and church historians, presents historical, theological, philosophical and legal perspectives on Christianity and criminal law.
Following a Preface by Lord Judge, formerly Lord Chief Justice of England and Wales, and an introductory chapter, the book is divided into four thematic sections. Part I addresses the historical contributions of Christianity to criminal law drawing on biblical sources, early church fathers and canonists, as far as the Enlightenment. Part II, titled Christianity and the principles of criminal law, compares crime and sin, examines concepts of mens rea and intention, and considers the virtue of due process within criminal justice. Part III looks at Christianity and criminal offences, considering their Christian origins and continuing relevance for several basic crimes that every legal system prohibits. Finally, in Part IV, the authors consider Christianity and the enforcement of criminal law, looking at defenses, punishment and forgiveness.
Keywords
Criminal Law, Punishment Theory, Criminal Justice, Attempts, Complicity, Virtue Ethics, Christian Legal Theory
Disciplines
Criminal Law | Law | Religion Law
Recommended Citation
Garnett, Richard W., "Christianity and the Criminal Law" (2020). Books. 368.
https://scholarship.law.nd.edu/law_books/368