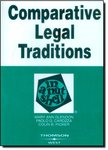 Title
Comparative Legal Traditions in a Nutshell. 3rd Edition.
Description
An introduction to comparative law written from the American lawyer's viewpoint rather than that of the European civil law lawyer. This expert discussion concentrates on the three major legal traditions of the West: civil, common, and socialist. Subjects covered include legal structures in civil law nations; legal actors in civil law tradition; procedure; substantive law; sources of law; judicial process; and rules. Also contains chapters on the European Union and the European human rights system.
Publisher
West Academic Publishing Co.
Keywords
comparative law, legal structures, legal structures in civil law nations
Disciplines
Civil Law | Comparative and Foreign Law | Law
Recommended Citation
Carozza, Paolo G.; Glendon, Mary Ann; and Picker, Colin B., "Comparative Legal Traditions in a Nutshell. 3rd Edition." (2008). Books. 43.
https://scholarship.law.nd.edu/law_books/43