Preview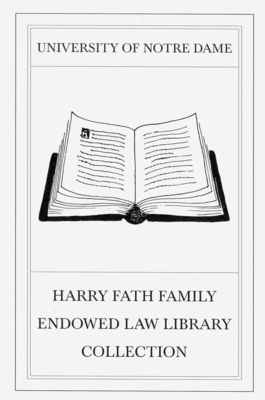 Description
The Harry Fath Family
Endowed Law Library Collection
The Harry Fath Family Endowed Law Library Collection was established in 1996 by Harry J. Fath Jr., a 1963 graduate of Notre Dame, and his wife, Linda, of Cincinnati, Ohio. After leaving Notre Dame, Harry attended the University of Cincinnati, where he earned his law degree in 1968. He is now chief executive officer of Fath Management Company and serves on the board of Catholic Inner City School Education (CISE) and the Executive Committee of the Cincinnati Opera. in addition, he is the founder and past president of the Greater Cincinnati Apartment Association.
Linda Fath is also active in the Cincinnati community. She is past chair of the Taft Museum Docents and currently serves as a Cincinnati Art Museum docent. She is also a board member for Cincinnati's annual May Festival. She and Harry have four children.
The evolution of modern society has resulted in ever-increasing legislative enactments, administrative regulations, and judicial opinions aimed at harmonizing the needs of a national and international community. The complexity of these laws inspires an associated body of books and journals designed to explicate or synthesize old and new law. The Harry Fath Family Endowed Law Library Collection will enhance the ability of the Law Library to respond to current and future development in legal publishing. The Fath Endowment will support and benefit the continued legal research and scholarship of both students and faculty.