Preview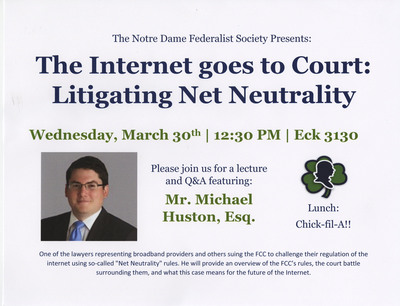 Description
The Notre Dame Federalist Society Presents:
The Internet goes to Court: Litigating Net Neutrality
Wednesday, March 30th I 12:30 PM I Eck 3130
Please join us for a lecture and Q&A featuring:
Mr. Michael Huston, Esq.
Lunch: Chick-fil-A! !
One of the lawyers representing broadband providers and others suing the FCC to challenge their regulation of the internet using so-called "Net Neutrality" rules. He will provide an overview of the FCC's rules, the court battle surrounding them, and what this case means for the future of the Internet.