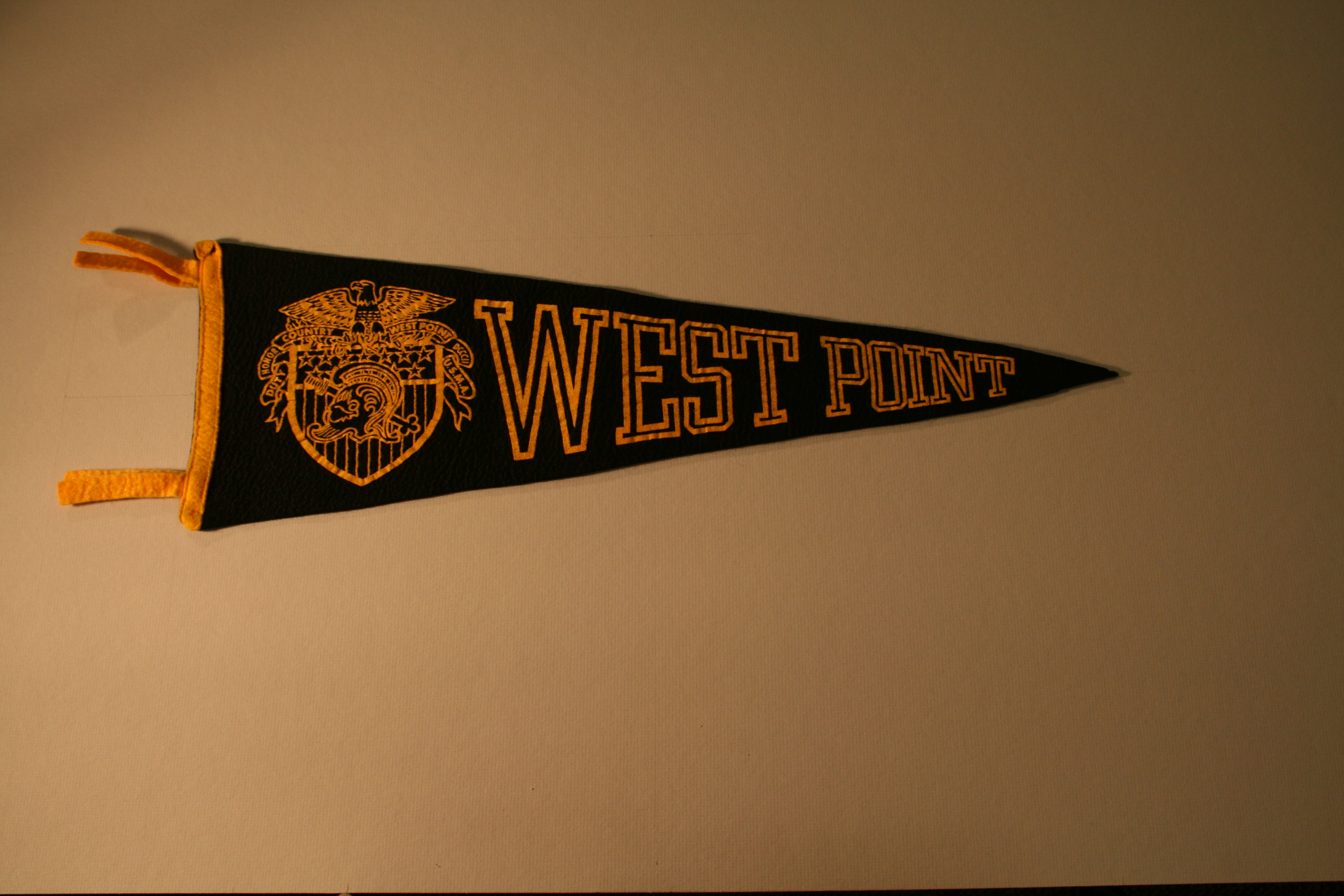 Hanging from the ceiling above the "pit" area of the Law School student lounge was an impressive collection of pennants representing the undergraduate institutions of many of our alumni. Adding a new pennant to the collection or spotting one from his or her undergraduate institution already in the collection was a source of pride to incoming students. Few however, know the history behind this collection.
It was an impressive collection both in size and in meaning. It honored the undergraduate institutions that played important parts in the lives of our graduates. It is the legacy of a group of men from the Class of 1982 known collectively as "The Back Row Bombers." In 1979–80, their first year of law school, classmates Mark Tallmadge, Greg Moore, Ed McNally and Jim Gates "distinguished" themselves in Professor Dutile's criminal law class, Professor Murphy's contracts class, and Professor Rice's torts class by their style of class participation which consisted largely of smart remarks hurled like bombs by nameless, faceless voices from the back rows.On April Fool's Day 1980, an anonymous advertisement in The Observer—believed to have been the work of one or all of Professors Dutile, Murphy and Rice—dubbed the voices the "Back Row Bombers." The name stuck.
In the spring of 1980 the three moved in together. According to Greg one of the trio's prized possessions was a bar, complete with a Nash Kelvinator refrigerator. As Ed McNally remembers it, after the bar was installed, the space on the wall behind it was perfect for his Yale University pennant, which he donated to decorate the "Back Row Bar." Tallmadge added his Notre Dame pennant, Moore his West Point pennant, and Gates his Belmont Abbey pennant. A collection was born. To christen the prized bar, the Bombers decided to throw a party. The fledgling pennant collection served as the inspiration - bring a pennant, get free beer. During their years at NDLS. the pennant collection continued to grow. As graduation approached, the Bombers' collection contained nearly 40 pennants. Not sure what to do with the collection the Bombers approached Dean Link with an offer to donate the pennants to the Law School. Dean Link's decided to accept the collection, and within hours of the meeting, the nails went into the walls of the lounge, and the pennants became a part of NDLS history.
Printing is not supported at the primary Gallery Thumbnail page. Please first navigate to a specific Image before printing.